A decent vacuum can go a long way, and since it may endure for a very long time once acquired, it's definitely not a product for brief use. With so many brands available, such as Dyson, Dibea, or Midea, we can appreciate it if you're unsure about the kind of vacuum cleaner to purchase. Not to worry! We have professional vacuums to fit every budget, from cordless and portable models with strong suction to fully autonomous robot vacuum cleaners.
Here is a good selection of some conventional and bagless, highly recommended vacuum cleaners in Malaysia to assist you in selecting the one that is ideal for cleaning your home and even your car.
Dibea D18 Cordless Vacuum Cleaner
The Dibea has two modes and is intended to remove dust and debris from laminated flooring, hardwood floors, tiles, and carpet. While the max mode will serve you well to remove debris like food particles, the regular mode is made to pick up dust and hair from a range of surfaces.
Even though the D18 only has one cleaning deck, it has two interchangeable roller brushes, which makes it stand out from many other models. With it, you may clean different types of flooring, such as hardwood and multi-surface flooring, individually to lessen the chance
The electric floor head on the D18 has LED headlights, which is another cool feature. These lights are great for cleaning dark corners and under furniture. Additionally, the vacuum's capacity of 0.54L allows it to be used for extended periods of time without having to stop and empty it.
Roborock S6 MaxV
Technology, It's best to embrace the modern era and possess items that are totally powered by it, like this robot vacuum. Nine out of ten users of robot vacuums endorse the Roborock S6 MaxV, which is Roborock's most potent vacuum ever. Although it may be expensive, it cuts down on a significant amount of annual chores.
The LiDAR sensors and stereo cameras on Roborock's first robot vacuum provide greater obstacle avoidance as well as more precise room mapping and navigation. It can avoid objects like electrical lines, shoes, and most crucially, pet feces since it has an internal AI that has been trained in object identification. Additionally, distance is determined more precisely because of its dual cameras.
Additionally, the S6 MaxV has 25% more suction force than its forerunners, which makes it more effective at collecting fine dust from floors and deep areas of carpet. To be noted, setting up the S6 MaxV only takes ten minutes.
As was already mentioned, the S6 MaxV can map the house by floor and area so that it will always know where it is. Additionally equipped with a mop function, the vacuum can clean an area up to 2000 square feet with just one water tank.
Dibea F20 Max
The Dibea F20 Max is the finest portable, stick vacuum on our list for a reason. This model, which boasts a massive 25,000 PA real power suction and a long-lasting robust motor with 60% more improvements than the previous generation, extends the lifespan of an average vacuum by roughly 5 times.
The Dibea F20 Max stands out because to its long battery life. You may now choose the ideal suction power for various jobs at your pleasure. For instance, the Standard mode is perfect for general cleaning of staircases and ceiling corners, while the Eco option is best for removing food crumbs and floor dirt. There is a Max mode, which is the setting with the most powerful suction. This is helpful for challenging tasks including getting rid of tenacious pet hair from carpets, draperies, and even furniture.
Although the foam exhaust filters are washable, the filtering system is located immediately below the HEPA filter, therefore it does not provide protection for allergy sufferers.
Midea Vacuum Cleaner MVCV12KGR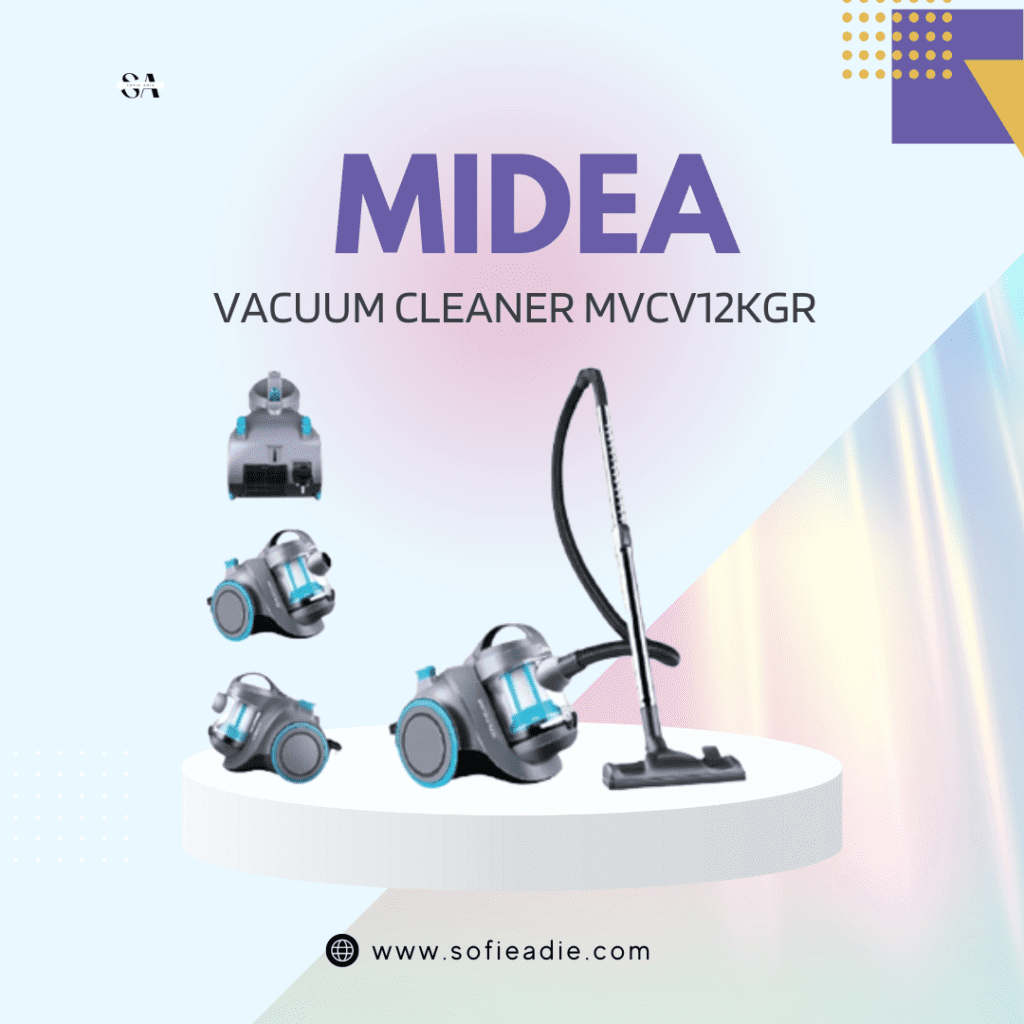 The Midea Vacuum Cleaner MVC-V12K-GR may not be as glamorous as some others, but because of its effectiveness, it provides a decent value. This vacuum is perfect for people who wish to undertake basic cleanings of the floor and furniture because it has a bagless system and an ergonomically built structure.
It has a multi-stage filtration system with a HEPA filter and an 18 kPa suction pressure. It also consumes 1000W of power. These qualities guarantee the removal of even the tiniest, hardest, and most deeply embedded dirt from your carpets and rugs.
There is an eco-mode available if you don't want so much power and it works great for quick cleaning.
The vacuum employs a bagless mechanism, as was already described, to make garbage disposal simple. Given that the trash capacity is 1.5L, you won't need to do this frequently. Additionally, the vacuum cleaner just weighs 4 kg, making it simple to use for heavy-duty cleaning.